Sydney to Melbourne drive
·
Your one-stop travel plan with all the info you need
Add this and other places to your personal travel plan. We will then help you with further suitable suggestions: free of charge and fast!
A popular road trip in Australia is the Sydney to Melbourne drive. We show you what routes and travel options are available, the most beautiful cities, sights and highlights. To be able to experience the route Sydney to Melbourne relaxed, you should plan 2 weeks. Each additional day will be a great benefit to you because there really is a lot to see and do.
More interesting articles
How to get from Sydney to Melbourne
The distance from Sydney – Melbourne
The distance Sydney – Melbourne is manageable by Australian standards – depending on which route you take from Sydney to Melbourne, it ranges from 880 to around 1,700 kilometers (the Sydney Melbourne Coastal Drive is the longer route). The really nice thing about both tours is that you will see many great sights in Sydney like the Opera House or the Sydney Tower, experience the continent outside the metropolis depending on your preferences and additionally experience the in-city Melbourne. If there's still time after this fascinating itinerary from Sydney to Melbourne, you can continue on the world-renowned Great Ocean Road.
The itinerary Sydney – Melbourne in camper / motorhome
We drove the itinerary Sydney – Melbourne with the camper. If you have the time, we advise you to drive this route also with a motorhome, because this way you experience Australia just a bit more intense. During the tour we camped with the camper both on campgrounds and in national parks, it makes a really great combination here. Check here to see if a motorhome is available during your travel time.

You can of course rent a car for the travel route from Sydney to Melbourne and spend the nights in hotels and motels along the way.
Itineraries from Sydney to Melbourne
There are two different routes to get from Sydney to Melbourne. The first tour will take you from Sydney to Melbourne along the coast where you will see many great beaches, coasts, national parks and really beautiful places. Another itinerary takes you from Sydney to Melbourne over the so-called Australian Alps. In contrast to the coastal route, here you will mainly experience the Blue Mountains and the surrounding landscape. You can vary this itinerary from Sydney to Melbourne by going via Canberra – by the way, this little detour is very worthwhile.
Impressions of the highlights of Sydney – Melbourne in the video
Want some more inspiration on what highlights there are on the Sydney – Melbourne route? Then take a look at this video right now. Here are not only the highlights of the Coastal Drive to see, but also a few of the Inland route, but it's a great video 🙂 Have fun watching!
Sydney to Melbourne road trip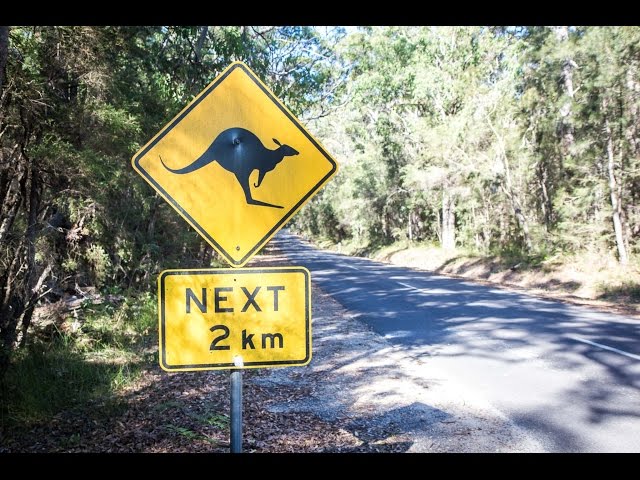 Play video
The Sydney – Melbourne Coastal Drive
The Sydney – Melbourne coastal drive takes you directly along the ocean in many places. It is about 1,700 kilometers long – with a few detours to highlights worth seeing such as Wilsons Promontory National Park or Phillip Island.
Overview of the route Sydney – Melbourne on the map
From Sydney to Melbourne you will pass these places and highlights.
Day 1: Sydney – Shellharbour (130 km)
The Royal National Park is the first national park founded in Australia – after Yellowstone National Park in the USA, it is incidentally the oldest in the world. It has existed since 1879 and is intended to serve as a large recreational area for Sydney residents. It is over 15,000 hectares in size. You should avoid the park on weekends as it will be very crowded, but during the week you won't encounter too many visitors. A highlight of the Royal National Park is Wattamolla Beach, where you will find a lagoon and even a waterfall.
Many of the beautiful beaches are unguarded and sometimes very dangerous because of the currents. A highlight of the park are the Figure Eight Pools, which you can hike to. Many visitors like to take a bath here, you can do that, but we advise you to be really careful, because the rocks are very slippery and can – depending on the tide – become very dangerous. On the website of the National Park you can check the tide level and see when is the most suitable time to visit.
On your onward journey you will come to the Sea Cliff Bridge, the 660m long bridge leads you in approx. 41m height over the ocean. A wonderful view awaits you here. Continue towards Wollongong, where you will see breathtakingly beautiful landscapes in the so-called Southern Tablelands.
Your journey continues to Wollongong – called The Gong, the third largest city in New South Wales. It was mainly characterized by heavy industry such as steel and copper. There are 17 beaches in Wollongong, which are also guarded. Its port, Port Kembla Harbour, handles most of Australia's cars and is also home to Australia's largest grain export terminal. Port Kembla Harbour is also one of the three largest ports in Australia. In Wollongong, by the way, you can also skydive and view the surroundings with a little thrill from above.
The first night we spend in Shellharbour at the Beachside Holiday Park directly at the beach. My tip: Book your campground in advance and ask for a spot right on the water.
Day 2: Shellharbour – Booderee National Park (approx. 115 km)
The sweet town of Kiama is best known for its lighthouse and blowhole. Water is shot out of this blowhole, sometimes to a height of over 60 meters. The drive now takes you inland a bit before you reach Jervis Bay. Besides the Booderee National Park with its beautiful small bays you will be rewarded with beaches of white sand and crystal clear water and the odd dolphin.
In the period from May – November can recommend you a whale watching tour. It lasts 90 minutes and you will cruise by boat in the beautiful clear waters of Jervis Bay past the beautiful beaches and almost certainly see many many dolphins in Jervis Bay. Especially for families it is well suited.
This night we spent at the Booderee National Park campground.
Day 3 Sydney – Melbourne: Booderee National Park – Moruya Heads ( approx. 180 km)
Ulladulla is known for its fishing parade, which is held annually at Easter. If you are ever here, you should definitely eat fish at the harbor.

Pebbly Beach is not necessarily the most beautiful beach along this route, yet I would like to mention it here. Why? At Pebbly Beach, kangaroos come right to the beach, so you can get up close and personal with the Australian wildlife.
The tour continues towards Batemans Bay, a popular vacation resort for Australians – especially those from Canberra like to spend a few vacation days here. Here the Clyde River flows into the ocean. Batemans Bay is an El Dorado for anglers, is best known for its fresh seafood, and offers great beaches for families and water sports enthusiasts like scuba divers.
By the way, from Batemans Bay you can also do great whale watching tours. From May/June to November is the whale season in this region, then the large marine mammals pass by here. A uniquely beautiful tour is a kayak tour for whale watching. Here you feel really close to the whales and nature in general.
We can recommend Big 4 Moruya Moruya Heads Easts Dolphin Beach Holiday Park especially if you are traveling with children.
Day 4-5 of the Sydney-Melbourne itinerary: Moruya Heads – Eden (approx. 185 km)
Eden is a place on the Sydney Melbourne itinerary that is particularly characterized by fishing. In Eden you can watch whales very well between May and November, then right and humpback whales are here in the area. Eden is said to be one of the best places in Australia to watch the passing whales. Eden, by the way, was once known for its whaling, which, however, is now a thing of the past. From the lookout point Rotary Park Lookout you have a great view over the ocean and with luck you can see whales and seals!
The next two nights we are at Eden Beachfront Holiday Park and have time to do our laundry and relax a bit.
Day 6: Eden – Mallacoota (about 90 km)
Between Eden and Mallacoota further south is the New South Wales state border with Victoria. When crossing the intercontinental border, be sure to check the applicable regulations on what food you can dispose of and what you can bring into Victoria.
Mallacoota and the Mallacoota Inlet offer uniquely beautiful beaches where you will encounter few or virtually no other people.
At Mallacoota Foreshore Holiday Park we are again directly at the ocean.
Day 7 Sydney – Melbourne: Mallacoota – Lakes Entrance (approx. 210 km)
The beautiful resort of Lakes Entrance is located on the Gippsland Lakes, which is one of the largest inland water bodies. Here you can go excellent fishing, also there is fresh seafood that will delight you – provided you like seafood.

Lakes Entrance is a very popular vacation spot, so it's no surprise that there are many hotel resorts and campgrounds here. We decide on the NRMA Easter Beach Holiday Park, which is a bit off the beaten track.
Day 8: Lakes Entrance – Seaspray (approx. 175 km)
The following day we continue towards Seaspray, which is located directly at Ninety Mile Beach. Ninety Mile Beach is one of the longest and most pristine beaches in the world. And hardly anyone knows him, his namesake in New Zealand is clearly better known. The Ninety Mile Beach takes you 150 km along the coast, through some national parks to the beginning of the Gippslands.
Seaspray Caravan Park is located directly on the spacious beach – here you can spend a wonderful time on the beach.
Day 9-10: Seaspray – Wilsons Promontory National Park (approx. 240 km)
Wilsons Promontory National Park, also called Wilsons Prom, is one of the highlights on the Sydney-Melbourne route. You will reach the southernmost point of the Australian mainland and will be rewarded with nature and wildlife: Besides wombats at the campground (Tidal River Campground) in the national park, there are some other great highlights like Mount Oberon, which are absolutely worth seeing. We're staying 2 nights at Tidal River Campground, which, by the way, you'll want to reserve online well in advance if you plan to stay here. Read more about Wilsons Promontory National Park here.

Day 11: Wilsons Promontory – Cape Paterson (approx. 130 km)
Unfortunately, we have to move on now. Our next big target is Phillip Island. However, we allow ourselves a shorter and thus more relaxed travel time and stay overnight in Cape Paterson.
Day 12 Sydney – Melbourne: Cape Paterson – Cowes / Phillip Island (approx. 80km)
Drive through San Remo over the bridge to Philip Island. The peninsula is especially known for its penguins that come to the beach here in the evening. Unfortunately, this is why the beautiful island is really crowded in some areas. The penguin parade is very interesting, but also quite expensive.
Day 13: Cowes – Mornington (approx. 115 km)
Today we continue our journey towards Melbourne. But the Mornington area is absolutely worth a stop. Here are the famous Mornington Bathing Boxes, which you know from many an advertisement.
Day 14: Mornington – Melbourne (approx. 60 km)
Melbourne is the perfect complement to Sydney. Here you will find again the urban contrast to Wilsons Prom and the nature outside the two big metropolises of Australia. Here you can find our Melbourne City-Guide, where you can get a lot of tips for your stay in Melbourne besides the many great sights!
Sydney – Melbourne itinerary overview
Sydney - Royal Nationalpark - Wollongong - Shellharbour

Sydney
Royal Nationalpark
Wattamolla Beach
Figure 8 Pools
Sea Cliff Bridge

Shellharbour - Booderee-Nationalpark 

Kiama Lighthouse 
Kiama Blowhole
Jervis Bay 

Booderee Nationalpark - Moruya Heads

Ulladulla 
Pebbly Beach
Batemans Bay

Mallacoota - Lakes Entrance

Lakes Entrance - Seaspray

Seaspray - Wilsons Promontory

Wilsons Promontory - Cape Paterson

Cape Paterson - Cowes / Phillip Island

Cowes /Phillip Island - Mornington
FAQs
Is Melbourne near to Sydney?
For Australian conditions, it can be said that Sydney and Melbourne are relatively close to each other. But if you are on a European scale, it is a 9-hour drive by the fastest route. But a travel route should never be about getting from one place to another so quickly, but to make the most of the time and route.
Which is better to live in Melbourne or Sydney?
Of course, it is always a matter of taste and depends on what you like best in cities. Personally, I find Sydney with its much better, more reliable weather, beautiful beaches and somewhat cooler architecture a bit nicer. But both Sydney and Melbourne have their own charm. Melbourne is ab bit more hipster and grungy with a much more fun nightlife (not my focus ;)).
Is Sydney to Melbourne a nice drive?
YES! Our Trip from Sydney to Melbourne was beautiful in every way. You will see many great beaches, coasts, national parks and really beautiful places. If you go to Australia and you want to see more of the continent, plan on taking a road trip to another city to really experience the magical nature and culture of Australia. You won't be disappointed!
More interesting articles
About the author
I love traveling! Whether it's the Australian outback, the fjords of Norway or city trips to the most beautiful cities in the world like Paris, Singapore, Barcelona or New York - I'll write down my best tips so that your trip will be a very special highlight.
How did you like this article?